Recently Huck commented on Andrea of the Hanged Men.
Huck said:

The remarkable thing is, that he had a nick-name: Andreino degli Impiccati ("Little Andrea of the Hanged Men") and these hanged men war hanged by their heels. Very different explanations are given as reason, why he had this nick-name.

Let's try another explanation: Perhaps Andrea Castagno had something to do with the invention of the figure in Hanging Man in the Tarot game?

...

... I leave it to you to discover the different versions of life of this man.
Whether Huck has found "very different explanations", there is only one that is widely known and accepted, and it has never been a mystery. Andrea Castagno was famous for some striking
pittura infamante
he had executed. Such "shame paintings" have been the most commonly mentioned cognate for Tarot's Traitor card since Gertrude Moakley wrote about them in 1966.
Although shame paintings seem a menial task for great artists, a number of them are known to have depicted hangings of one form or another. Leonardo da Vinci and Sandro Botticelli are among the notables who took such commissions. The best surviving examples of a notable artist having depicted the hanging by one foot are the sketches by Andrea del Sarto, shown below. The work for which these sketches were made was sufficiently known that it was recorded by Vasari in his
Lives of Artists
, along with a similar series of paintings by Andrea del Castagno.
Andrea del Castagno:

He lived in honour; but spending much, particularly on his dress and in his manner of living, he left little wealth behind him. When Guiliano de' Medici was slain, and his brother Lorenzo wounded, by the Pazzi and their adherents, the Signory resolved that the conspirators should be painted as traitors on the facade of the palace of the Podesta. And the work being offered to Andrea, he accepted it willingly, being much beholden to the house of Medici. He painted it surprisingly well, and it would be impossible to describe how much art he displayed in the portraits, painted for the most part from the themselves, representing them hanging by feet in all sorts of strange attitudes. The pleased the people so much that from that time he was called no more Andrea dal Castagno, but Andrea degli Impiccati, Andrea of the hanged men.

http://www.fordham.edu/halsall/basis/vasari/vasari8.htm
Andrea del Sarto:

During the siege of Florence some of the captains of the city escaped, carrying with them the pay of their soldiers; therefore Andrea was charged to paint them in the Piazza del Podesta, together with some other citizens who had escaped and become rebels. That he might not be nicknamed Andrea of the Hanged Men, as Andrea dal Castagno had been, he gave it out that one of his pupils, Bernardo del Buda, was doing it; but, having enclosed the place with a hoarding, he used to go in and out by night, and carried out the work with his own hand so well that the figures appeared alive. The paintings on the facade of the old Mercatanzia were many years afterwards covered with whitewash that they might not be seen.

http://www.fordham.edu/halsall/basis/vasari/vasari17.htm
Here are the surviving Hanged Man sketches of Andrea del Sarto, scanned from Samuel Edgerton's
Pictures and Punishment
, (1985). Because I don't think they're readily available online, I made the JPEGs large enough so that some detail can be appreciated.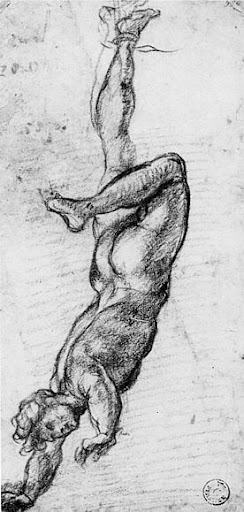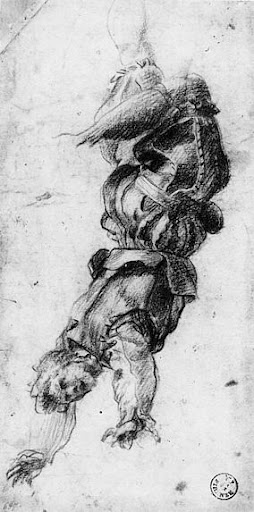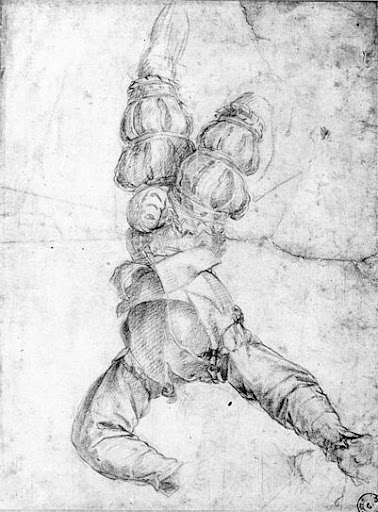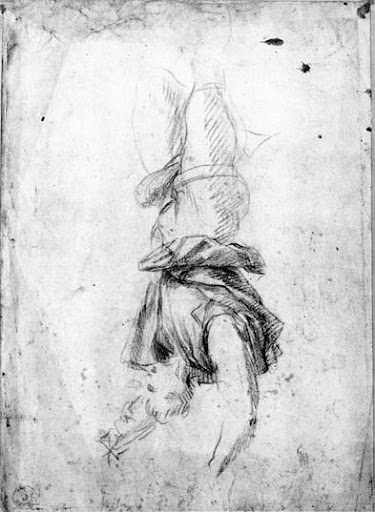 Best regards,
Michael